A family-owned and independent Group, Ponticelli Frères has been a vector for strong values since its creation in 1921 and which are supported by its shareholders and employees alike.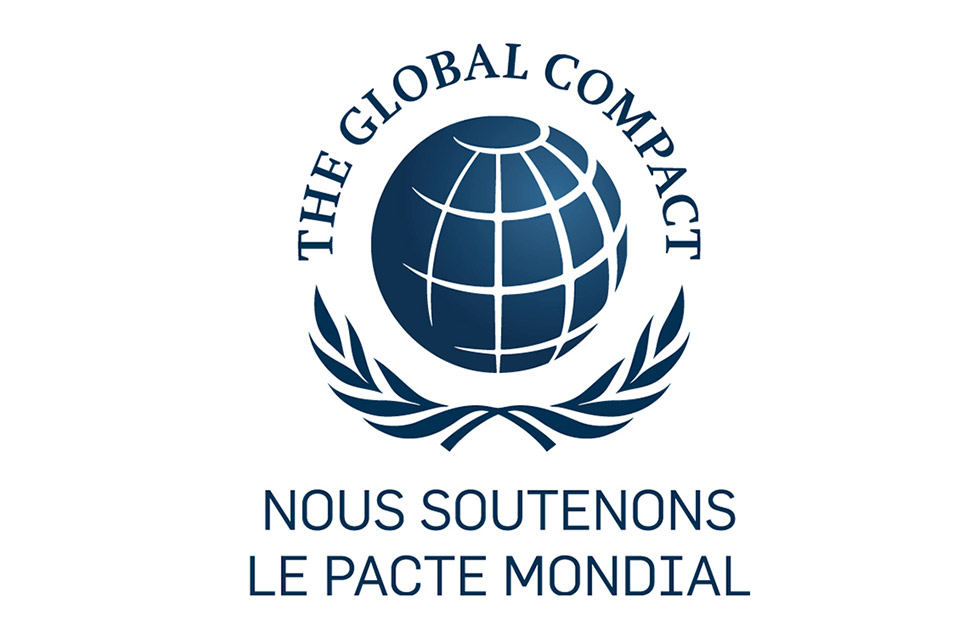 Strong values
They can be resumed in 3 words: Union, Work, Wisdom. A technical and deeply humane corporate culture has developed around these historic values.
The Group is extremely committed to serving its clients efficiently and ensuring the performance of their industrial facilities. At the same time, it bears a great sense of humanity resulting from the respect of its clients, employees or partners, and the sharing of responsibilities such as successful projects. Its main objective is to above all ensure the company's sustainability, for the benefit of all.
The Corporate Social Responsibility approach relies on this cultural heritage by defining it, promoting it and developing it further. By combining quality, safety, environment and social responsibility in a single approach integrated in the continuous improvement process, by joining the United Nation's Global Compact, the Group has illustrated its desire to follow international standards and to fully involve all its stakeholders in the process to promote sustainable development.
United Nations Global Compact
In 2017 the Group confirmed its CSR commitment by officially joining the United Nations Global Compact. By doing so, the Group integrates and supports the United Nations' objectives and promotes Global Compact values within its sphere of influence.
ECOVADIS – GOLD LEVEL
ECOVADIS, the Group's CSR performance appraiser has ranked it in the Top 5% across all sectors of activities.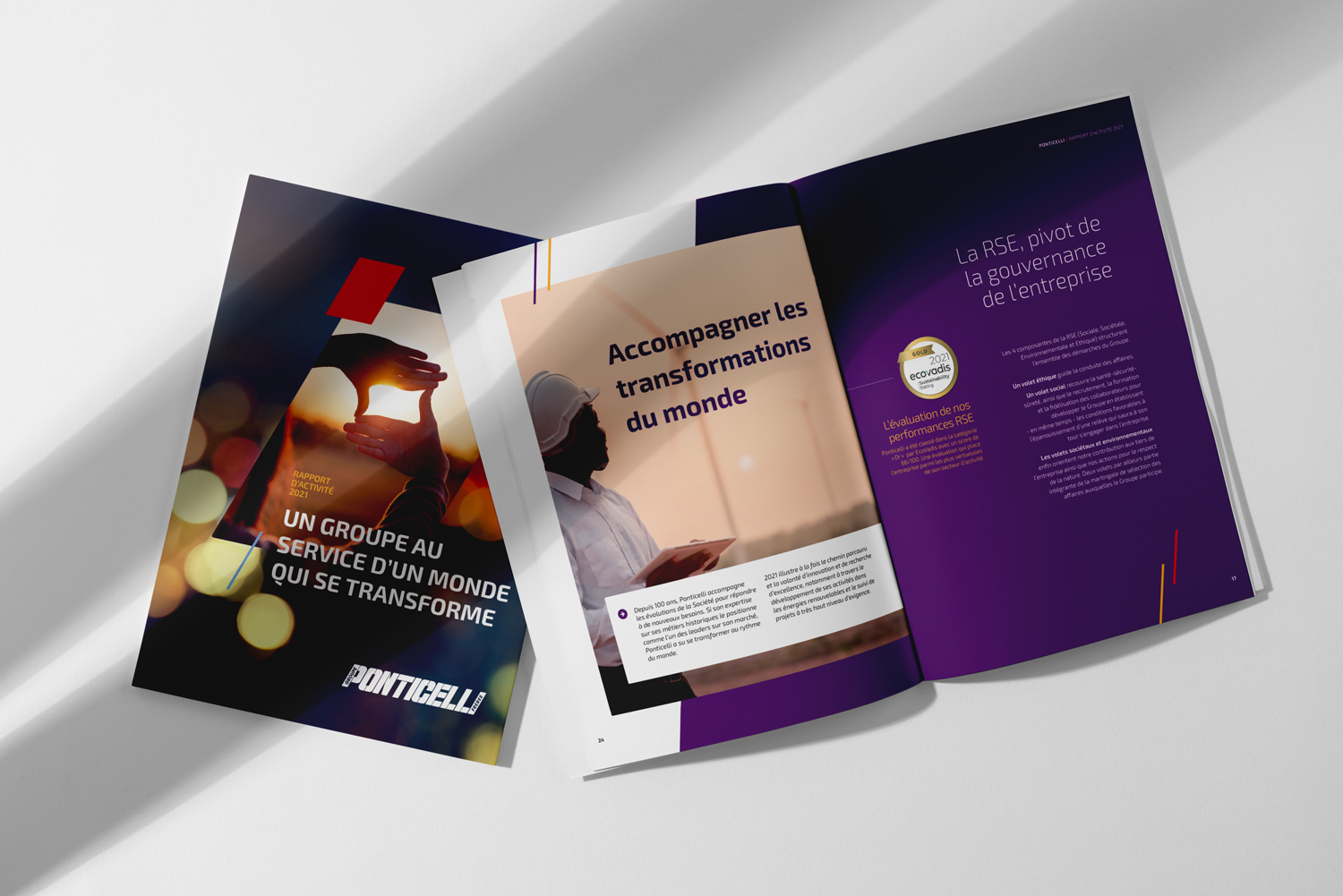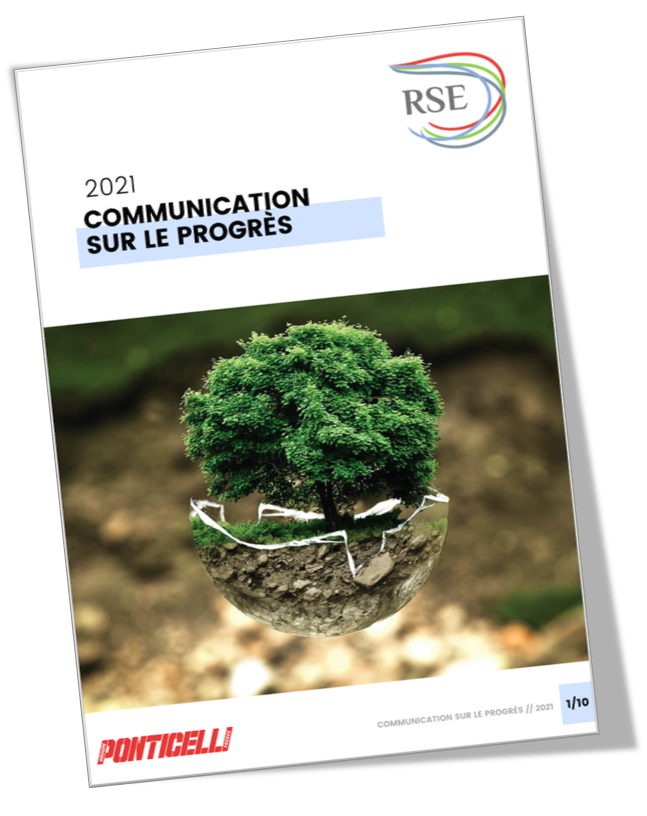 Communication on progress
For the fourth consecutive year, the Ponticelli Frères Group has renewed its commitment to the 10 principles of the United Nations Global Compact.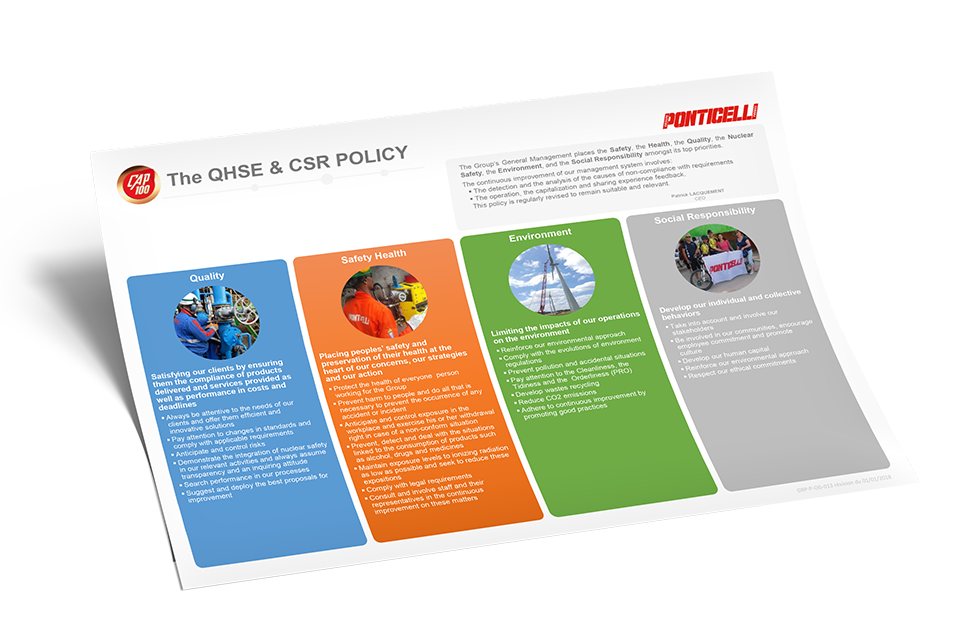 QHSE & CSR policy
The PONTICELLI Frères Group has associated quality, safety, environment and social responsibility in a unique and integrated approach to continuous improvement. This policy is regularly revised in order to be constantly appropriate and relevant.
Our long-term commitments
The Group's responsibility approach is lead by a strong governance that is built around 4 important fields of action which interact and convey our various commitments.
Social responsibility: health, safety and professional well-being
The men and women who form our Group are our greatest strength. We therefore strive to create a dynamic and safe working environment, where everyone's professionalism is secure. Priority is given to health and the safety of all those working for the Group and to the development of human capital.
A recognised management of Health and Safety at Work
The various certifications obtained in Health and Safety at Work management illustrate the Group's maturity on the matter: MASE, VCA, ISO 45001 and CEFRI (nuclear sector).
A highly active development of skills
Our training policy aims to develop employees' skills and prepare them to be able to take up new challenges. Every year the Group devotes significant resources to this. An internal training institute provides training dedicated to safety, quality and management, and also aims to develop managerial, technical and transversal skills.
The "Professional future" law promulgated on September 5th 2018 gives Ponticelli Frères the opportunity to strengthen its commitments to its employees through actions whose results will impact the index on professional equality between women and men.
For 2022, this index reaches the score of 78 points.
The results obtained for each indicator are as follows:
Pay gap indicator: 38 points
Individual increase rate deviation indicator: 10 points
Promotion rate gap indicator: 15 points
Percentage of employees who received an increase in the year following their return from maternity leave: 15 points
Number of employees of the under-represented sex among the 10 highest paid: 0 point
Our progress targets 2022, for each of the indicators in the index that did not achieve the maximum score, are:
Increase pay equality between women and men by ensuring equal remuneration, position and classification for the same qualification, fonction, skill and experience. Ponticelli Frères will pursue the necessary actions to reduce any pay gap between women and men.
Reduce the promotion gap by ensuring that individual promotions in each professional category continues to be determined only by professional competence and not by gender.
Increase the number of women in the ten highest paid positions by:

Increasing the awareness of all staff and especially recruiters of the principle of professional equality between women and men ;
Developing gender equality in recruitment as much as possible ;
Encouraging internal and external applications from the under-represented gender for positions where they are under-represented ;
Ensuring neutral recruiting procedures within the company ;
As for all positions in Ponticelli Frères.
We have strengthened our ethical approach over the last few years to maintain a flawless reputation as a recognised and professional service provider.
This approach is aimed at reassuring our clients, partners and employees that we work according to defined and controlled rules in transparency and integrity matters.
Code of ethical conduct
Ethical principles have been brought together in a "Code of Conduct" that is attached to our Internal Rules & Regulations and describe the Group's and its employee's ethical commitments to all stakeholders. A guide is available to all employees to help reinforce their application and which illustrates concrete examples of the Group's guidelines and foundations in ethical matters.
Download the Code of ethical conduct
Raising employee awareness
Employees are made aware of ethical risks, particularly when they are more exposed by their position, activity or missions.
Joint actions can be carried out with our clients to support our shared convictions even more.
Environmental footprint: control and reduce the effects
Well aware that our environmental footprint is restricted by being a service provider to industry, we cannot however ignore its consequences and we are making every effort to protect the environment.
A tendency towards hybrid and electrical vehicles
Studies on greenhouse gas emissions have revealed that most of our pollution comes from our fleet of vehicles. As a result, the Group has developed the use of hybrid fuel vehicles and small utility vehicles that are 100% electric.
Efforts in favour of biodiversity
Well aware of the environmental issues that bees and their role in maintaining biodiversity represent, original efforts have been made within the Group.
They range from sponsoring beehives with beekeepers to their installation on our sites, and training employees to take care of them on a voluntary basis.
An Environment Committee has been set up which centralises and pools skills between entities.
A commitment to solidarity
We support solidarity actions and projects that are centred around development, education, health and culture. To do so we are involved with communities in the countries we work in and participate in local development.
There are numerous actions which take various forms: financial support, donations of equipment, skills-based sponsorships, mobilisation of employees…
1 significant action per year
In 2015 through a partnership with the emergency social services in Pointe Noire (Samu Social) we were able to contribute to educational projects.
In 2016 the Group financed the purchase of a van to be used for daily rounds for a soup kitchen (Relais du cœur de la Seine Saint Denis).
In 2017 Group employees took part in Run Disney to raise funds for a heart surgery association (l'Association Mécénat Chirurgie Cardiaque). This enabled a little one-year old girl from the Congo Brazzaville to have essential heart surgery.
In 2018 the Group renewed its partnership with the heart surgery association and developed projects with a foundation that helps disadvantaged young people (L'Association des Apprentis d'Auteuil)