As contractors and experts in the mechanical, piping, lifting and design trades, Ponticelli Frères conceives, builds, upgrades and maintains large production plants to guarantee long-term safety and performance.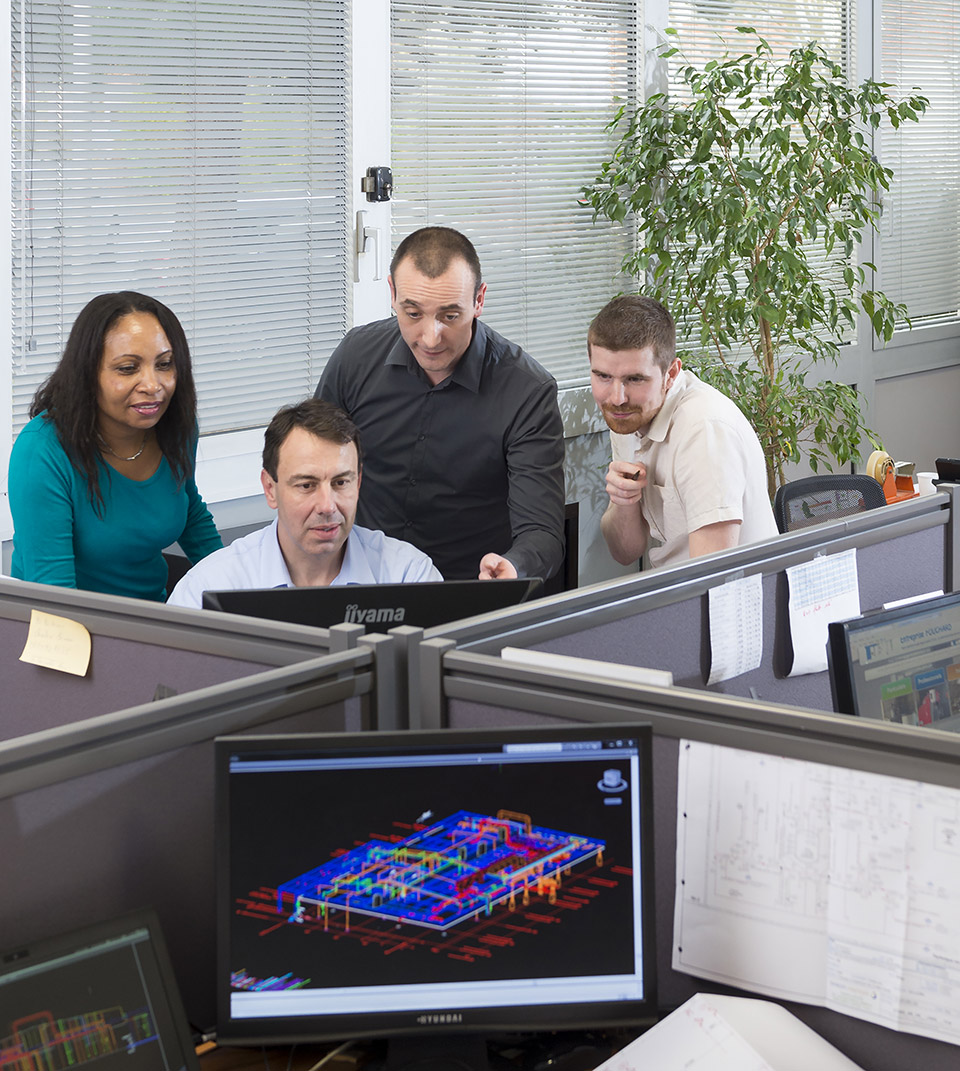 Working for Ponticelli
Means choosing to serve the performance of leading industrialists and provide them with day-to-day efficiency to optimise the performance of their production sites.
Means joining an independent, human and responsible family company which works on major projects and complex facilities giving priority to safety, quality and operational excellence.
Means being able to train, progress and benefit from the social ladder to have a fulfilling professional life and a successful career.
Means making a commitment to a Group who truly believes that its strengths lie in its values, its experiences and in the motivation of the men and women who enable it to exist.
ʺWhat could be more important for our clients and our sustainability than human capital? ʺ
Thierry Le Gangneux, CEO Group Ponticelli

A professional career path, a structured progression
At Ponticelli, the word career still has meaning. The social ladder is efficient and we help our employees progress. Career paths are thought out and structured. The Employment Guide used within Ponticelli describes the various job sectors in the Group.
A job sector is made up of several jobs in the same family. Progress is possible from one job to another in the same family and also from one sector to another.
Positions combining technical expertise and management (maintenance, project and site management) are regularly available, as well as in support functions (management control, accountancy, safety, quality etc..) and offer career opportunities in France and abroad.
Your future is in your hands!
Training, developing skills
The Ponticelli Group considers training as a real strategic investment which enables to conserve and and develop its employee's knowledge and expertise, thus facilitating their progress within the Group.
The Training policy is designed to accompany and help employees develop their skills all throughout their careers. It is aimed at satisfying our clients' expectations and regulatory requirements (electrical accreditations, nuclear training, chemical risks, working at height, etc…) while meeting our employees needs to progress.
Mobility, a career accelerator
Mobility is a real career accelerator within the Group.
Whether it is functional or geographical mobility, for temporary or long-term assignments, in France or abroad, as part of a secondment or an expatriation, mobility allows employees to discover new positions and responsibilities and to enrich their experience and skills.
Incentives and supportive measures have been set up in order to make mobility as appealing as possible and make sure that it is carried out under the best possible conditions.
PF-30, a recognition of merit
The Pf-30 is a group of employees considered to be of particular merit, exemplary employees who share and convey the Group's values. Every two years, 30 employees are elected and rewarded. They are nominated following a specific action or commendable behaviour. This is a means of rewarding the personnel based on irrefutable and objective criteria.
This is obviously a way of motivating the Group's employees and encouraging them to be loyal. It highlights the company's and the personnel's recognition. The PF-30 selection criteria are based on the company's values and main lines of progress. The members of PF-30 act as ambassadors for the Ponticelli Group and transmit its values.
IFP, bespoke training courses
Created in 2009, Ponticelli's training institute (IFP) develops and provides a wide selection of trade and managerial training courses to meet the needs of our collaborators and employees deployed in all the Group's activities.
Perfectly adapted to our client's specific trades and requirements, IFP provides expert and technical resources to accompany personnel all throughout their professional lives.
In summary, IFP is:
an expert team in engineering and training (design of classroom or remote training, setting up and steering of large project training centres, production-logistics-stewardships and training follow-up, certification engineering)
a national and regulatory ʺDatadockʺ quality certification of the training courses
160 training modules proposed and compiled in the IFP Training Guide
new or improvement certifying or qualifying trade courses:

riggers, lifters pipe fitters, welders, maintenance mechanics, logisticians, warehouse keepers
support functions: SHE, quality, preparers or planners
local or site managers
versatile young engineers-future managers (safety, technical, management, project managers, foreign languages)

training courses located in France and abroad
a welding training centre and development centre at Lillebonne (Normandy)
a training centre at Saumur for initiation courses in welding, piping or mobile machining
an IFP Learning platform for the creation and distribution of digital training course contents
a partnership with the Total Group's OLEUM oil trades centre
courses designed for the Ponticelli Group's client's employees (lifting training courses referenced by TOTAL, or by INOVYN for jointing courses)
academic courses with the SNCT (French boilerwork union) and the French ministry of education
participation in the creation of official qualification reference systems, immersive VR (virtual reality) educational innovations
contributions to professional committees (CLAR Local Content EVOLEN, …)
ACTIONS OR TRAINING COURSES UNDERTAKEN